Stake
Hero official website
The undisputed soccer betting tipster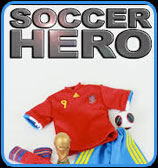 Soccer betting is one of the easiest way to making quick money. Yet, soccer betting has never been an easy task for most people. There are a variety of reasons why people lost alot of money through soccer betting. One of the most common reason is that they simply bet based on their gut feeling. This group of soccer punters will never get rich by soccer betting simply because they are relying too much on luck. Though luck does play an important factor for soccer punters, this way of soccer betting will never be consistent and eventually will lead to huge losses.
About

Stake

Hero




The company behind the top betting tipster

StakeHero was started in 2006 by a group of soccer tipsters each with their own distinctive skills of beating the bookies. We first provide our service in UK soccer magazine. And in year 2013 we started the first official website stakeher. Our soccer masters have been highly successful in their soccer picks since the start of the site. We have received lot of emails expressing compliments for the service we rendered.

We are also constantly in contact with our sources in Asia & Europe for exclusive insider's information.
Based on our formula in soccer analysis and our exclusive insider's information, we are confident of achieving at least 80% strike rate.